Financial Planning For Dental Practice Owners & Attending Physicians
Pay Off Student Loans l  Lower Taxes l Invest For Tomorrow 
We enable dentists & physicians to maximize life beyond their clinical work.
Want To Be Smarter With Money Than Your Friends?
Our latest comprehensive guide for dentists & physicians highlights the 7 BIGGEST steps you must take now.
We are a company that helps dentists & physicians across the country evaluate repayment options for their student loan debt. We can identify immediate action steps for most consults to save tens of thousands of dollars on interest payments! We evaluate all options and help you make the best decision possible.

Our clients define retirement for themselves and their needs - there's no one true definition! For some, this means quitting altogether, while others work on into old age (and maybe even beyond). I want to help you figure out what kind of retirement would best suit your situation so we can make an informed decision about where your money should go.
Fee-Only Insurance Planning
Insurance can be a headache, but we make it easy to avoid the pain. We will never steer someone towards overbuying coverage when they don't need more than what their existing policy offers them! We determine what type and amount of protection would work best for you based on your current individual policies as well as any other types like property/casualty coverage and group benefits.
Diversification is a word you've likely heard before. It means spreading your money across different investments to ensure that if something goes wrong with one specific asset, there will still be others worth investing in instead of losing all their savings because they put everything into just one stock. A low-cost and tax-efficient portfolio is critical for protecting investments against market volatility while still meeting all of your other financial obligations.
With so many people failing to plan for the future, it is a shame that they do not think about where their money will go when death comes knocking. The time to take care of your family is now. You can't put off making a will or other important legal documents any longer! We understand how stressful the situation might be, but we help you plan for what you want to do when things are no longer yours. We help you prepare to ensure the safety and protection of your family.
Your taxes are important. Uncle Sam wants his money, and you might be able to give it back by itemizing your deductions or taking advantage of tax credits that can lower what's owed in the first place! We'll help make sure whatever option works best for YOU. We are your guide through the intricacies of taxes. We fully understand how important it is for you to make decisions that will affect you today, tomorrow, and beyond! We help you make the most of every penny with our high-quality tax advice and complete financial guidance.
Why Arch Financial Planning?
CFP® PROFESSIONAL
We have the expertise and credentials to best serve you.
 Fiduciary
We take the highest oath that we will put your interests first.
Fee-Only
We make it easy and transparent to see how we're paid. 
CSLP® PROFESSIONAL
We're a Certified Student Loan Professional.
 Specialize in You
We only work with dentists & physicians making us experts in your unique needs.
Accountability
We help you achieve your goals with frequent communication.
Cecil P. Staton, CFP® CSLP®
President & Wealth Advisor
I'm a fee-only financial planner for dentists & physicians with student loans looking to give a purpose to their paycheck.
I left the large financial institutions to start my own RIA. I did it so people could pay for real planning and not just an agenda to sell a hidden product. As a fiduciary, Arch Financial Planning, LLC was built on that promise by delivering non-cookie-cutter plans that provide solutions to achieve their goals.
Arch Financial Planning strives to help you end the confusion around student loans, reduce taxes, and retire confidently. 
When not perfecting financial plans, you can find me enjoying our favorite local brewery, at the park with my wife & dog, visiting family in Hilton Head, SC,  and cheering on the Georgia Bulldogs.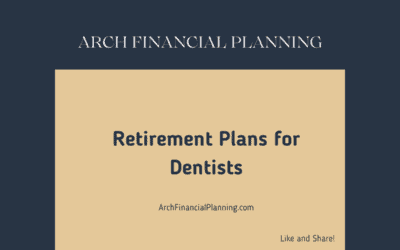 Arch Financial Planning is the premier financial advisor in Atlanta, GA. Committed to providing advice and solutions that help realize clients' long-term goals, they have a proven track record of success within the industry. Make your finances secure with their expertise today!
Ready to Learn More?
We're Here to Help.